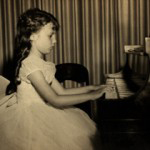 Yvonne Leonard grew up in a small town in West Virginia, not too far from Pittsburgh, and quite close to Paw Paw Creek and a branch of the B&O railroad. After developing an aversion to crinoline and a life on the stage very early on, she abandoned music and embarked instead on the study of art, receiving a BFA from West Virginia University and an MFA from The University of Texas at Austin.
Leonard works in a variety of media including drawing and printmaking. In printmaking she works primarily in multiple plate color intaglio. Her intaglio prints are made using processes such as etching and aquatint on zinc or copper plates, and carbon tissue photogravure on copper. Lately she has begun working in relief and litho. Whatever the process, having printed more editions than anyone can possibly want or use, she is concentrating for awhile on one of a kind prints or variable editions
In 1998 Leonard established the printmaking program at the Savannah College of Art and Design, Savannah, GA. She oversaw the set up of the main studios, the acid and ground rooms, the Mac lab, and the darkroom, exposure and washout areas. She developed the program and course curriculum for the printmaking minor and taught a variety of the courses in print media including Etching, Lithography, Monotype, Relief, Digital processes for Printmaking, Advanced Printmaking Processes, and Photogravure. While there she had the good fortune to work with many unique and interesting students and faculty, serving as the program's director until 2002.
One lasting memory entails getting impatient on a late afternoon the first summer of the set up for the new Takach litho presses to be installed in the studios. Finding a palette jack she decided to try and pull the still shrink-wrapped litho presses into the studio herself, during what turned out to be a hurricane watch. While about half way to the studio from the front door, with one press in tow, the lights in Alexander Hall, and most of Savannah, went out. Since she was already having poor success getting the palette jack unstuck from a piece of uneven sub-flooring, she abandoned ship for that day.
In late 2002, she was given the opportunity to assist in the development of an off-campus program at the Lacoste School of Art, Provence, France. With the aid of a remarkable Photo student and Print minor from SCAD, who came as the studio lab tech, the print shop, already partially in place from the previous tenants, was reorganized and added to. While in Lacoste she taught Printmaking, Illustration, and Grad Studio, and spent a good amount of time wishing she had paid more attention to the priests during French classes in high school. After one last summer teaching printmaking in Savannah she said goodbye to Alexander Hall and relocated her studio from South Carolina to the south coast of Massachusetts where she lives with her husband, the Ceramics artist Jim Lawton.
Leonard has exhibited her work at a variety of venues including solo and group exhibitions at- The International Print Center, NYC; Anchor Graphics, Chicago, IL; Flatbed Press, Austin, TX; San Francisco Museum of Modern Art; Laguna Gloria Museum, Austin, TX; Diverse Works, Houston, TX; Frogman's Press, South Dakota, Boston Printmakers; Southern Graphics Council conferences and traveling exhibitions, Society of American Graphic Artists, NYC; Piccolo Spoleto, Charleston SC, and multiple university settings among others.
In addition to conducting printmaking workshops at Penland School, Flatbed Press, and the University of South Dakota, Leonard has taught in many capacities at a variety of institutions. These include Virginia Commonwealth University, Richmond, VA; The School of the Art Institute of Chicago, Chicago, IL; Savannah College of Art and Design; and St. Edward's University, Austin, TX.
She is currently Associate Professor of Art and Department Chair at the Community College of Rhode Island.